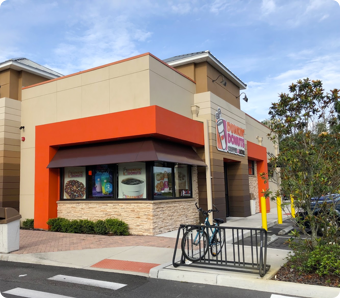 03/02/2021
By Wall Street Journal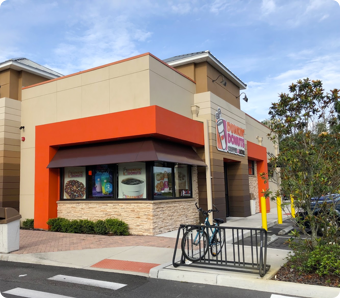 The pandemic is sparking a boom in an often-overlooked type of property, the drive through.
Food halls and restaurants have taken a big hit from frequent limits on seating capacity during the Covid-19 crisis. But chains such as Chick-fil-A Inc., McDonald's Corp. and Checkers & Rally's Restaurants Inc. said they are enjoying a sales uptick at stores with drive-through lanes, which have become more popular during the pandemic.
"You can pull up in your car and stay socially distant," said Camille Renshaw, chief executive of B+E, a real-estate investment brokerage firm.
Even restaurant chains that have never offered drive-through options are rolling out lanes. Shake Shack Inc. is building its first drive-through this year in Orlando, Fla. The New York City-based company's urban stores were hit hard by the pandemic. CEO Randy Garutti said Shake Shack is exploring new formats as it pushes into the suburbs to boost sales and aims to develop as many as eight drive-throughs by the end of next year.
Real-estate investors are eager to get a piece of the now thriving drive-through business, said Derek Waltchack, a partner at Shannon Waltchack, a real-estate developer and property owner based in Birmingham, Ala.
A property with a drive-through lane typically commands 10% to 20% higher rent compared to one without, he said. Shannon Waltchack wants to broaden its portfolio so that half of the firm's properties include drive-throughs, or layouts that would allow for the construction of the lanes, he added. Seven of the firm's 40 properties currently have drive-throughs.
Drive-through sites are in demand partly because of their scarcity value. Many municipalities have imposed restrictions on the lanes at new developments. Applicants often need to seek approval for zoning changes, which can be difficult to obtain if concerns are raised about potential traffic congestion and air pollution. At some drive-through locations, long lines of vehicles have prompted neighboring businesses to complain that their customers aren't able to enter the parking lot.
"There is definitely not enough supply," Mr. Waltchack said.
Indeed, real estate with drive-through lanes was a hot commodity even before the pandemic, but demand has become more pronounced, said David Orkin, an executive vice president at commercial real-estate-services firm CBRE who focuses on restaurants.
Last year, Mr. Orkin and his team created a list of potential drive-through sites. They called mall landlords and retailers that own their properties and asked about parking lots that could house a drive-through restaurant. The list, which includes failed restaurants, now numbers roughly 4,000 properties, though many would require zoning-change approvals.
Some restaurant chains that already rely on drive-throughs are bulking up with even grander versions, in part to help meet a rise in digital orders. Burger King, part of Restaurant Brands International Inc., in September unveiled plans for future restaurants designed with triple drive-through lanes. One of the lanes would be reserved for customers who order online.
Chipotle Mexican Grill Inc. is expanding a similar strategy. The company plans to add 200 locations this year, with many offering customers the option to pick up digital orders via drive-throughs the company calls Chipotlanes. Starbucks Corp. said in December that it expects to open about 800 stores annually, particularly in suburban locations with drive-through lanes. The coffee company said in January that stores with these lanes drove half of net sales for the quarter ended in December, up more than 10% from pre-pandemic levels.
Some brokers said it might be easier to find locations for smaller stores that have little or no indoor seating, such as Checkers & Rally's properties. That company already has double drive-through lanes in 726 of its 843 locations. It said it wants to add 55 restaurants this year, up from 36 in 2020.
Some buildings could require as little as 1,000 square feet on a half-acre site, said Kristen McDonald, vice president of development for Checkers & Rally's.
"We're able to fit on a smaller site," she said. "This allows us to be pretty nimble."
Read more: WSJ