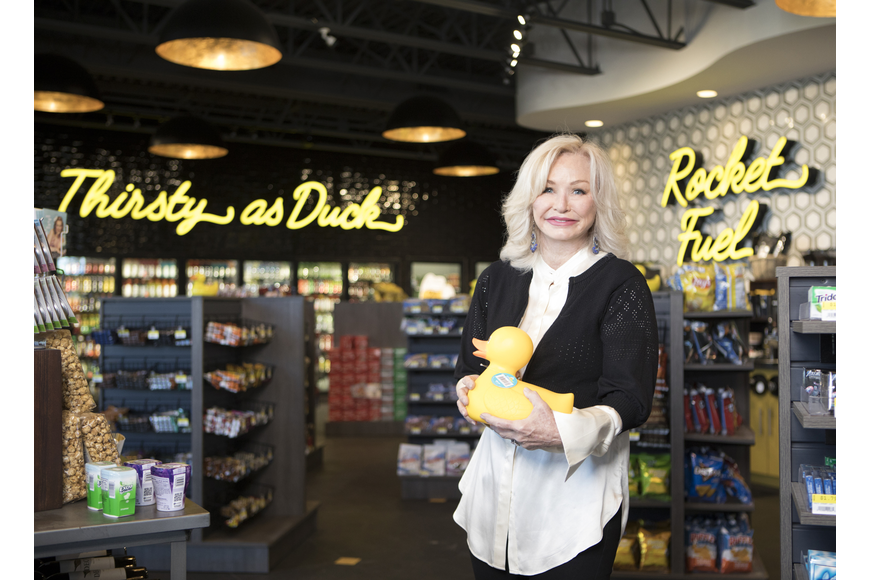 01/29/2021
By Mark Gordon | Business Observer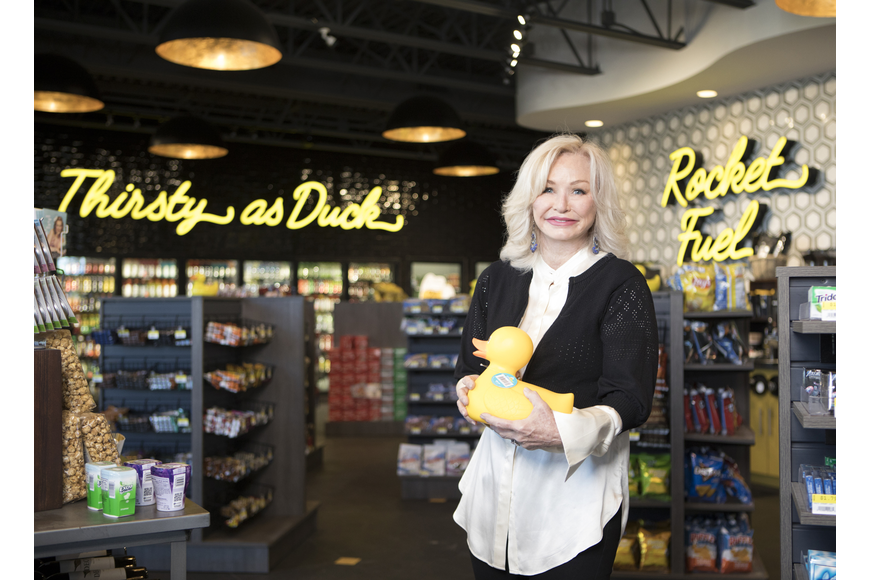 Gigi Rogers, an interior designer who has lived in New York City, London, Los Angeles, Vienna and Barcelona, isn't shy about enjoying some of life's finer things. That goes from cars — she owns a McLaren 600LT Spider, a Porsche 911 Turbo and a 600 horsepower Range Rover — to food. On the eats, in one example, for the 2020 holidays she had a full Korean dinner flown into Sarasota from famed New York restaurant Momofuku.
One thing in her life not as fine, in the past, is convenience stores, which, of course, are known more for their grime than grace. This is something Rogers has known most of her life, being her father, Burt, owned gas stations and convenience stores. Like many others, Rogers also experienced the lower-end of the industry personally: That was mostly in L.A., shuttling her daughter to school and ballet practice. "I wanted a place that was clean, where you could get something healthy to eat," Rogers says.
With that in mind, Rogers recently embarked on an unusual — and expensive — mission: to reimagine what a convenience store could be, to something where anyone and everyone feels comfortable buying a snack, quick breakfast or dinner for the family. A place where the bathrooms are hotel-style clean. And a place where both a trucker and a soccer mom can choose between charred avocado toast with ricotta cheese or a Philly cheese steak — both made fresh — for lunch. "We're trying to take the yuck out of convenience stores," Rogers says.
Roll on in
In attacking the mission, one of the biggest challenges Rogers and her team has found is in customer education — letting people know this isn't a 1990s-style, main-drag convenience store. "We are training [customers] who are used to coming in and getting a roller hot dog that has been here for three days," Rogers says. "If you're doing something different, it can always be hard. Anytime you transform an industry, there will be some growing pains."
Rogers' upbringing puts her in prime position to execute her mission. Her father bought a wholesale fuel company named ATCO in the 1970s. Known as a jobber, ATCO bought fuel from refineries and sold it to retailers. The firm also owned some 25 gas stations on the west coast of Florida, from Anna Maria Island south to Fort Myers, under the Marathon and Shell brands. Gigi Rogers helped her dad redesign the interior of some stores when she was younger, then she left the business to raise her daughter and build her career as an interior designer.
A Boca Raton native and University of South Florida graduate, Rogers came back to the region in 2012, settling in Sarasota. She now oversees the entire operation in conjunction with longtime ATCO executive and current President Alan Elwell. "I wasn't so sure I was going to enjoy the gas station and convenience store business," Rogers says. "I've surprised myself."
Rogers kicked off her plan in 2019 with a full-scale redesign of an ATCO/Marathon gas location in Fort Myers, the first redone under the Rogers Market brand. A second Rogers Market followed in Manatee County, a new build of a Marathon branded-store that opened last year, and two more are forthcoming in Sarasota County. Each renovation, including everything from adding Wi-Fi to custom-made outdoor tables and chairs to a revamped kitchen, costs between $5 million and $7 million. Financing comes via BBVA Bank.
The company intends to build out the Rogers Market brand — it includes a mascot, a bright yellow rubber duck — in several other stores as well in the next few years. It's also looking to buy land to build Rogers Markets locations from scratch, with Elwell citing low interest rates as a compelling factor. "We're actively looking for properties," he says. "We want to take advantage of some opportunities out there."
The company's timing could be spot on. Although the pandemic, especially in the early months, was a dent, the convenience store industry, in sales, margins and expansion, has been on the rise. That's especially true in the region and in Florida, where RaceTrac and Wawa, among others, have been rapidly opening stores the past five years. Atlanta-based RaceTrac has opened some 100 locations in the state since 2017, while Media, Pa.-based Wawa has more than 200 stores in Florida after debuting here in 2012. Industry giant 7-Eleven has been on the move, too, launching its quick-serve taco concept, Laredo Taco Co., in Florida late last year, with locations in Lee and Manatee counties.
The industry grew inside-the-store sales 2.6% in 2019, which beat the 2018 growth rate by more than 1 percentage point, according to a Convenience Store News report. Total merchandise sales rose 2.1% in 2019 over 2018, while foodservice sales (prepared food and dispensed beverages) increased 5.2%. Both figures represent the highest increases since 2016, according to the report. Another good sign of the industry's pre-pandemic strength: Pretax profits increased 7.8%, the report found, to a record $10.58 billion in 2019, driven by higher fuel margins and a nearly $4 billion increase in in-store gross profits.
Camille Renshaw, the CEO of New York City-based B+E, a commercial brokerage that specializes in triple net lease sales and 1031 property exchanges, says convenience stores are a top-performing asset class. There are several reasons for that Renshaw says, including brand recognition, usually strong locations and a get-in, get-out ease for customers that's an advantage in the pandemic. B+E, with an office in Tampa, recently negotiated the sale of 17 separate 7-Eleven stores, mostly in Western states, to a newly formed real estate investment trust for $71.5 million.
"Every investor in the net lease space, from institutions to small, private firms and family offices, wants to have a 7-Eleven in their portfolio right now," Renshaw said in a statement after that deal.
On the west coast of Florida, Renshaw adds in an interview, population and net-migration trends signal that the sector's rise could be around for a while. "Convenience stores are smoking hot right now," Renshaw says. "When you layer in no state income taxes in Florida, it's even better."
You're the one
Rogers Market is a convenience store first and foremost. Yet Rogers aims to position the brand as something more akin to Publix in terms of service and a local high-end market in product selection. "We can't compete with the financial capacity of the Wawas and the RaceTracs," she says. "We are in a different financial realm."
Where the brand can compete, Rogers believes, is in store design and a plethora of food and beverage choices. On design, the look is sleek and modern, with space to move around. Dipping further into her interior design background, the scheme is composed of an array of geometric shapes, textures and colors.
Details like a grand marble entryway, tiled interior walls, neon yellow signage and pendant lights — plus LED rubber duck lights in the walls — are all set to convey comfort and at-home ease. (The genesis of the rubber ducks, Rogers says, stems initially from seeing a giant silver rubber ducky statue that separates the two pools at the tony SLS Hotel in Miami's South Beach. Now the company's social media hashtag is #DuckYeah. "Everyone in any generation likes a rubber duck," Rogers says.)
The menu is also designed for comfort. It includes healthy, such as salad bowls; not-as-healthy, such as a fried chicken sandwich; and unusual, such as the duck confit sandwich. Meals are all made fresh-to-order, which adds another expense and challenge to the operation, given shelf-life limits. "Keeping things fresh is a balancing act," Rogers says.
Another balancing act, and challenge, is making sure the product selection is fit for a wide demographic and staying flexible to meet shifting demand. When the company opened the Fort Myers location, for example, which is near the Babcock Ranch master-planned community, they found construction crews, to their surprise, wanted healthier items. So they shifted that way.
Remaining nimble in product selection is also why Rogers Market sells both a $9 bottle of wine and a $40 bottle of wine. "We have to keep finding different products," says Tashka Mounts, the head of brand development for Rogers Market. "We want to appeal to anyone who walks in the store."
Move forward
One more challenge? Managing expansion plans.
The Manatee County location, a 4,700-square-foot store on 63rd Avenue, next to the Manatee County School District Professional Support Center, opened in 2020. Up next is a Rogers Market location on Bahia Vista Street and Beneva Road in Sarasota, a raze and rebuild of a Marathon gas station the firm bought about 10 years ago. Plans there, in the Pinecraft neighborhood, include building a new 4,300-square-foot store, with six gas pumps that can support 12 fueling stations. Work is underway there, and it's expected to open in May.
The company is also working on a new-build location on Fruitville and Paleo Drive, east of Interstate 75. At 10,500 square feet, that one is akin to building a small grocery store. Plans at that location, near the Founders Club, include a bigger deli/market, wine room and cigar humidor.
The Paleo location is in the final stages of permitting, and construction for the 12-month project could begin by the spring. If not an obstacle, one of the tougher things to swallow with that location, says Elwell, the company president, is impact fees are five times greater in Sarasota as neighboring Manatee County. "That can be discouraging," he says.
On the flip side, Rogers Market executives are encouraged by the customer and community response at the first two locations. The company declines to disclose revenue figures — which Elwell says have come back to about 90% of what they were prior to the pandemic. There are numerous opportunities, adds Rogers, are to surpass those figures in the next year or two, with more stores opening. "We want to build a place where we would be comfortable going and sitting down and eating," she says. "The market was wide open for this."
Source: Business Observer FL