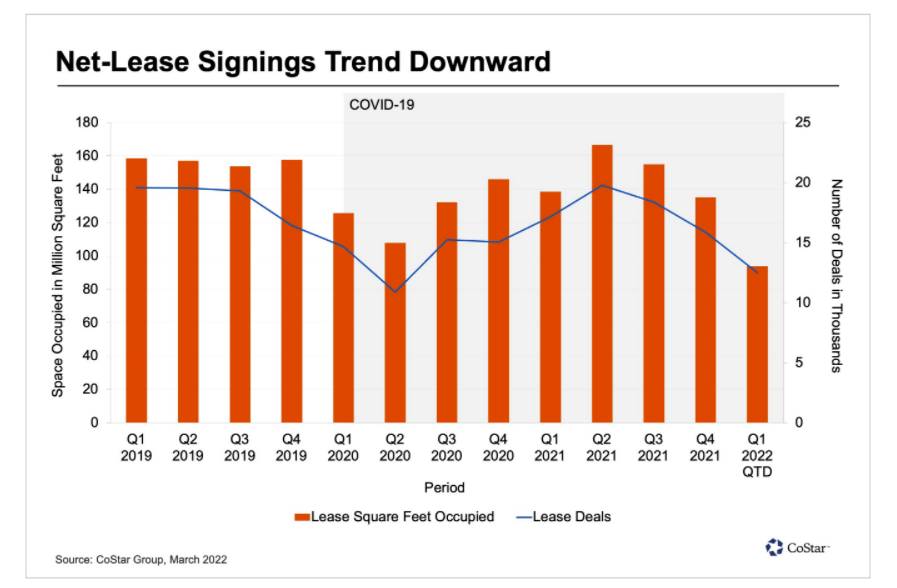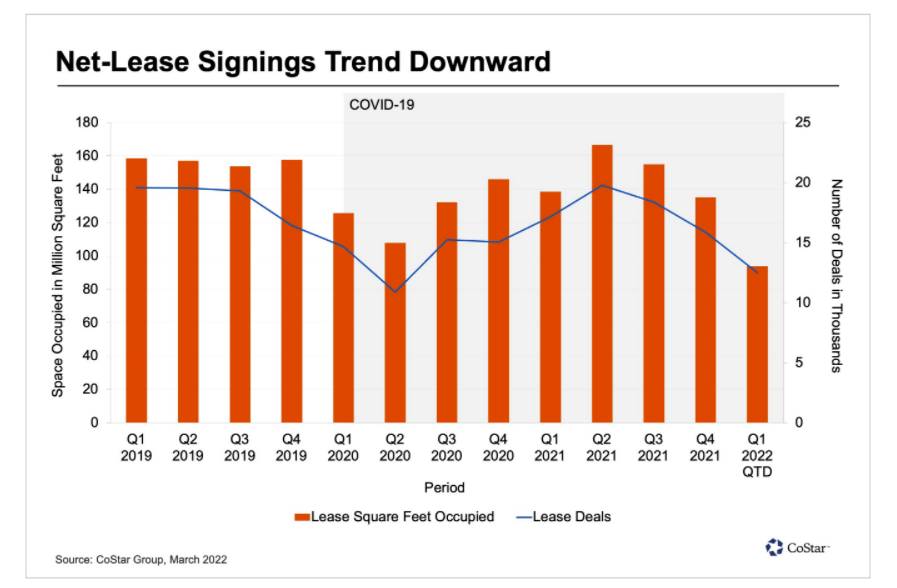 Lease Signings, Sales Slow, but Deals Are Getting Renegotiated Rather Than Scuttled
Some early warning signs are popping up in a place real estate investors have traditionally considered to be safe.
The net-lease property sector, awash with investor capital and coming off a record year of sales, has seen a slowdown in new lease signings since August, as sales transactions get off to a tepid start this year as investors assess the impact of rising consumer costs and interest rates. For now, deals in the works are getting renegotiated but are not likely to be scuttled, according to market players.
Inflation was already at a 40-year high before Russia's invasion of Ukraine, which drove up the price of gas. The fallout has hit property buyers and tenants of net-leased properties in their pocketbooks, but the two sides are said to be experiencing different effects.
Under net-lease arrangements, the tenant is responsible for paying utilities and taxes, thus offering some protection to the property owner from rising costs. And, while the coming wave of Federal Reserve lending rate hikes will make borrowing more expensive for investors and developers, those costs are likely to get passed on to tenants in rent.
So, with less risk to buyers, the market for net-lease properties from the standpoint of investors is expected to remain in demand. However, with tenants bearing the brunt of rising rents and property expenses, the net-lease sector is seeing fewer new signings, according to CoStar data, and analysts say that could curtail expansion plans further — at least in the near future.
"The high energy prices and world events have caused a turbulent stock market, and investors have turned conservative and are seeking the stability the net-lease sector provides," Randy Blankstein, president of The Boulder Group in Chicago, said in an email to CoStar News. "However, enthusiastic investors also have lingering concerns regarding inflation and interest rates."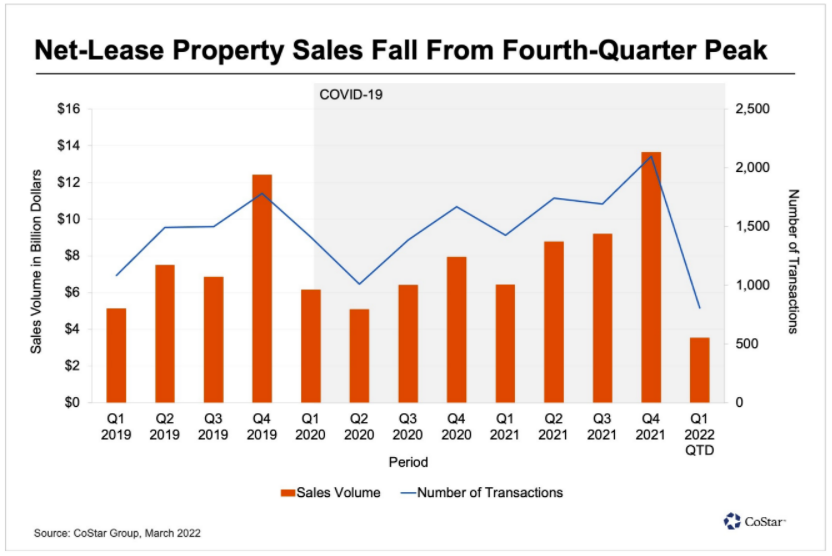 The Fed's decision to start raising bank borrowing costs is already showing up in deals in the works, according to Camille Renshaw, CEO and co-founder of B+E, a net-lease brokerage based in New York.
The Fed is raising its interbank lending rate by 25 basis points, its first hike since December 2018. It will not be the last. The rate increase represents the first step of a pullback of pandemic-related easing that could see borrowing rates move from about 0.5% to closer to 2.75% over the next 18 months or more.
Renshaw has been working with a developer in Texas for a new shopping center to be anchored by a grocery store tenant under a net lease. New clarity from the Fed on how high and fast rates will rise prompted the developer to ask for a revised outlook for a 20-year lease term before concluding the deal, she told CoStar News in an interview.
A good chunk of the borrowing costs for developers has "already been baked into the mortgage rates because mortgage rates have already moved so much. So, we think that mortgage rates over the next 18 months will move 50″ basis points, Renshaw said.
Rising utilities costs aren't expected to have a dramatic effect on tenant net-lease signings either, because utility expenses vacillate frequently over a typical 15- to 20-year net lease, Renshaw said.
While there may not be dramatic swings in deals, Blankstein of The Boulder Group sees the potential for short-term caution.
"Tenants look at their total occupancy costs including utilities. Thus, if energy price stay high for a few months, it will certainly change their costs assumptions and potentially slow down their expansion plans," he said.
Source: CoStar Group