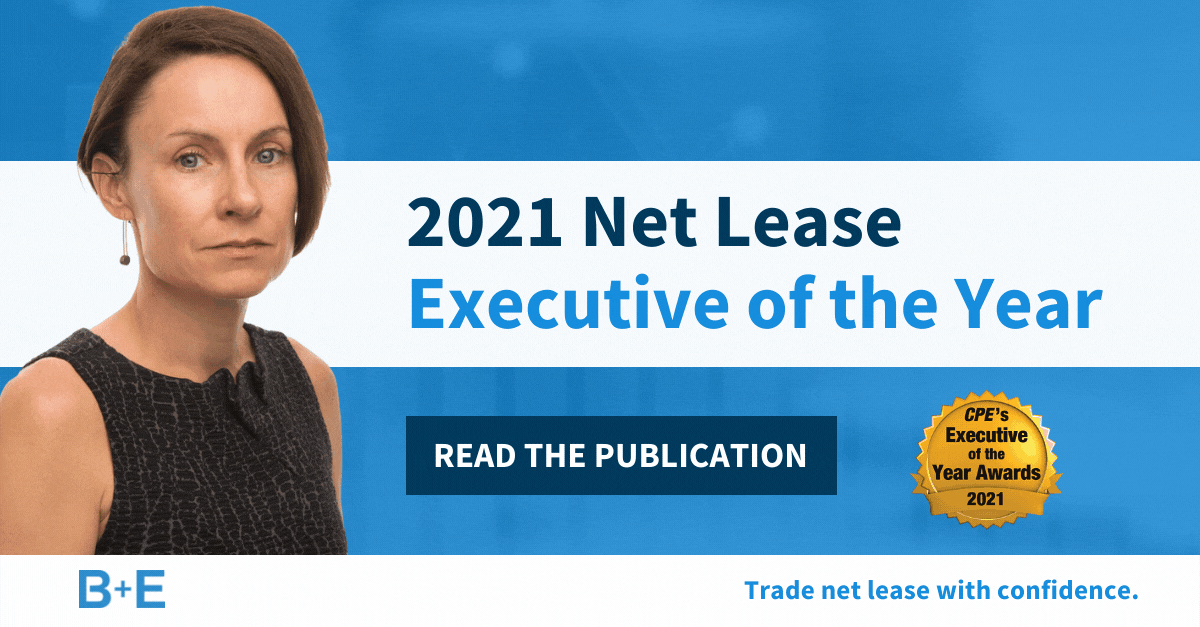 12/23/2021
By Commercial Property Executive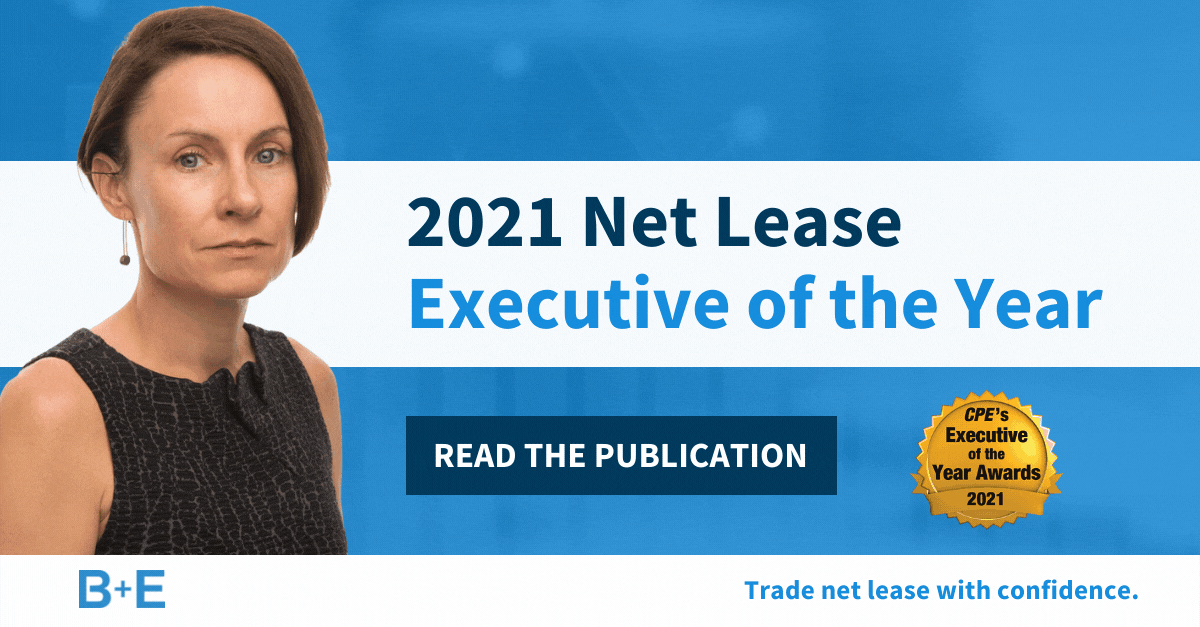 Back in 2017, Camille Renshaw and co-founder Scott Scurich set out to disrupt the $6.5 trillion net lease industry by launching the first tech-driven brokerage and trading platform for net lease real estate. Since then, B+E has consistently made news for pioneering advancements and a steady drumbeat of deals.
In October, B+E brokered the sale of a portfolio of two Kentuckiana Curb Cos. industrial properties in Louisville, Ky., for $13.5 million. Around the same time, the firm brokered two sales of Southeastern U.S. Caliber Car Washes for a total of $8.6 million and the sale­leaseback of Cloud10 Car Wash in Wilkes-Barre, Pa. In early August, the company brokered the sale of a Charlotte CaroMont Medical Group building in Stanley, N.C., for $2.2 million.
Since its founding, the firm has expanded to include offices in New York City; Chicago; Atlanta; Tampa, Fla.; Charlotte, N.C.; Denver; and San Francisco. One of the most memorable moments in the company's relatively short history came in December 2018, when B+E launched the first 1031 online trading platform at the ICSC New York Deal Making Show. The B+E 1031 Trade platform empowers exchangers to review the market for all net lease properties, both on- and off-market. The proprietary system leverages user-defined criteria to match properties, and name and purchase replacement properties.
In May 2019, with the $324 million Cabela's sale-leaseback, B+E brokered the largest commercial real estate transaction via a digital platform.
In the years before she established her company, Renshaw headed sales for Ten-X, a Google Capital company and a leading online marketplace for commercial real estate. Before joining Ten-X, she launched the New Yorlk office of the Stan Johnson Co., leading the sales team as the top producer for a half decade.

Prior to Ten-X, she served as director of the U.S. Capital Mar­kets division of Colliers International and a Top 40 Worldwide Pro­ducer. Her entry into commercial real estate came as owner of her own firm, Dyzco Technologies, which she successfully sold to American Financial Services Corp.
Renshaw frequently speaks before audiences, pens articles and is extensively quoted in publications ranging from the Wall Street Joumal and The New Yorker to Wired.
She serves as an executive in residence at the New York University Stern School of Business, as an advisory board member for Rutgers University's Big Data Program and as an adviser to Dreamit's UrbanTech Accelerator program. In 2019, Renshaw was named one of "New York City's 15 Women to Watch in Real Estate" by Sokol Media.
Source: Commercial Property Executive