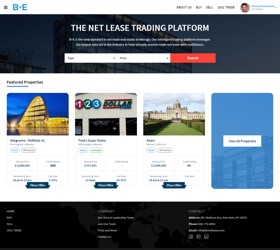 05/21/2018
By Erika Morphy | GlobeSt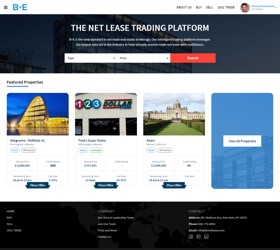 B+E (Brokers + Engineers) is launching a trading platform at RECon this week aimed at connecting triple net lease buyers and sellers and giving them a venue to complete the entire deal.
B+E is also announcing a joint venture with RCX Capital Group this week that will further augment the new platform, which is called The Global Retail Real Estate Convention.
RCX's online 1031 Exchange Hub will help 1031 exchangers analyze beneficial interests in Delaware Statutory Trusts (DSTs) offered by Inland and other sponsors, while the B+E platform will help 1031 exchangers facilitate Fee Simple transactions.
Buyers and sellers will also be able to review real-time credit and tenant data while they trade, says CEO and co-founder Camille Renshaw, who likens the platform to online stock trading. The B+E platform also offers real-time predictive pricing.
The platform is aimed at anyone in the net lease real estate market, the company says, including 1031 exchangers with pressing IRS-mandated timelines and institutional sellers who need to find the a buyer.
The US triple net lease market is estimated to have a total market value of $6.5 trillion, consisting of more than 1.3 million properties, with greater than $55 billion in average annual sales volume. Less than 1% of the triple net market trades annually for roughly 11,000 transactions with an average sales price of $5.5 million, and 55% of those transactions use brokers.